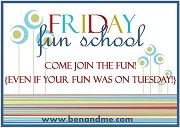 (Check out these great blogs and linky parties!)
We try to follow the school system's schedule pretty closely. It eliminates my stress and worry about the number of days we are in school, plus it allows me to be free for babysitting jobs to supplement our income. Students had three days off this week for Fall Break. So we took those days off too.
So much laziness...
Well, that's not entirely true. My husband's work schedule has been a mess while he covers vacations for the other managers. So he's working something like 12 days straight. This throws our schedule out the door. (By the way, I am so grateful we homeschool during times like this. If we were in public school, my kids would go days without seeing their Dad.)
Jerimiah and Dad taking advantage of the time they have together. Football is a great brain break! Anthony played too, and they had a great time together.
My normal planning day is Wednesday, because we go to the library on Thursday. This week, the husband had to go in to work too early on Thursday for us to make a library trip. So I hurry-planned lessons so we could go on Monday.
So we basically put a halt to our Science and Social Studies lessons. We did a lot of reading this week. We studied poetry (Shel Silverstein is always a favorite) and practiced reading aloud. We did math workbook pages, too. It was a very mellow week.
Anthony loves to make Math Spiders. I found the idea on Pinterest, and we modified it to fit our needs. Mr. A loves to draw, and he loves a break from the workbook.
Notice this spider has more than eight legs. We make Math Spiders on a pretty regular basis, and I told Anthony I wanted him to make a special one for my blog. He overachieved in the best possible way. Normally, we use a smaller number. The goal is use addition and subtraction, but like I said, he was excited.
We also checked out some art books at the library. Anthony is in a "how-to-draw" phase. He got two books this week, one on dinosaurs and one on airplanes. I put together simple books for both boys to practice drawing.
Anthony's cover page. He is usually a great speller, and he was really bummed when I showed him the correct way to spell it. However, "pitcurse" sounds like a horror novel, and I love it!
One of Anthony's dino drawings- I think he strayed a bit from the book. My favorite part is the little arms. And the hat. Don't forget the hat!
Jerimiah drew some type of airplane. I'm not an expert. I think it is fantastic.
We continue ever onward on our quest to complete Farmer Boy. It's such a great way to naturally incorporate vocabulary. My next project is to create a vocabulary/dictionary/thesaurus book for the boys to fill in. I'll share it when I'm done!
Hope you've had a fantastic week!